Family At Last
Eplilogue
This story is true. It was written as much in the moment as possible, starting in July, 2003, just after my 36th birthday. The story truly began 37 years before that, and had many detours and stops along the way. Then, during 2002 there were a series of events that lead to what has become a story that has changed me. I cannot thank the people in my life enough. From Cathy who worked at getting a response from the adoption agency that placed me, to the people there who knew how to work the system. I thank the IRS for passing the letter from the agency to the person with that Social Security Number, who was indeed, my birth-mother. I thank my family who welcomed me into their lives in a way I could have never imagined. But the story started long before that.
So he decided long ago to adopt us as his children. He did it because of what Jesus Christ has done. It pleased God to do it.
Ephesians 1:5 (NIRV)
God Can Do More Than We Can Ask Or Imagine.
God is able to do far more than we could ever ask for or imagine. He does everything by his power that is working in us. Give him glory in the church and in Christ Jesus. Give him glory through all time and for ever and ever. Amen. Ephesians 3:20, 21 (NIRV)
I'm one of those adopted kids you've heard so much about. We don't look like anyone we know, we're amazed by similarities between family members and we've got an abandonment complex. The first time I tried to make contact with my birth parents I was nineteen years old and as I look back now I wasn't ready then. I've always known that I wanted to know more about my parents – to help me learn more about me. For me, the strangest thing about being adopted was that I never looked like anyone else. I definitely didn't look like my parents or my sister, but it was easy to see how my friends and other relatives all looked like people in their family.
Secondly, I didn't really feel like I belonged anywhere. My experiences with family, school, and church, even marriage ended in feelings of abandonment, and I'm told that we adoptees often struggle with those feelings. It all comes down to being scared that people will leave me soon or eventually.
During high school my family moved from my hometown in Illinois to Connecticut. I felt the abandonment of friends at church and school. Their lives didn't change much, but I spent my sixteenth summer missing them and wishing for some kind of permanent relationship. I felt that my future had been yanked out from under me and I eventually severed ties with my parents some years later.
In search of permanency I married, unwisely, at age twenty. It was a huge mistake that I deeply regret. From the day our marriage began, I felt abandoned in a variety of ways, and we finally divorced after six years. It wasn't until I genuinely gave up my life to God's control that I felt like I belonged. It was in the community of service to the LORD that I felt the permanent bonds that would endure. It wasn't until that was in place that I was really ready to find my family. It was actually several years later that I emailed the agency which handled my adoption, but I got no response. About a year later, a friend of mine, Cathy Raidna, who runs "Adoptaid of Greater Hopes, Inc." then known as "Adoptions of the Heart," a local adoption agency, volunteered to help.
It was almost a year to the day from my email that I got a response. It took a few months for my original agency to contact my birth mother. They told me that she called the agency, wrote a letter, an email and called again, each time telling them that she did not want contact with me. In truth she needed to wait to talk to her family. The agency suggested I write her a letter and include a picture. I did, and when she got it, she let the agency know that she would talk about it with her family over the holidays. I got the best Christmas present ever then. I got an email from and even talked to Robin Weigle on the phone for the first time. She and her husband Bruce have two sons, Chris and David, and after a few days I started to learn my family tree of her sister Linda and her family and felt blanketed by pictures of family members going back to the early nineteen-hundreds.
Recently she wrote this to me, "In talking it over with Bruce, and then Linda, I decided that I HAD to make contact, couldn't NOT do so, but needed to tell your brothers first.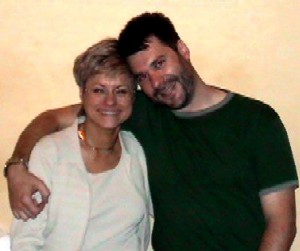 I am really glad things are turning out as they are. A big hole in my heart has been patched and filled – and with the actual missing piece! I just can't see how this could get any better."
A few days after my next birthday (36) I flew to Gulfport, Mississippi to spend four days with my Mom and her family. Just before we left, I got a card from her on my birthday that read, "It's not that I don't love the rest of the family, but I really LIKE that you're not crazy." And then in her handwriting, "for all the birthdays I've missed, love Mom."
I still cry every time I read that.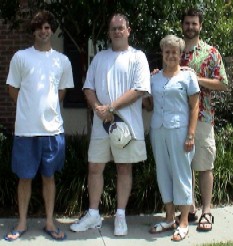 To say that they welcomed me with open arms doesn't do them justice. Mom was "Mom" to me in ways I couldn't have expected. She kidded around with me, hugged me, and held my hand. I found out as our time went on that I was not her "dirty little secret" as I had feared, but she had told her family, her friends, and co-workers all about me. She introduced me as "my oldest son." To me, this meant that I am one of her sons. She talked about Bruce as my "step-father" and he treated me with respect and courtesy I never got from the man who raised me. David is so relaxed, but Mom told me that he had told her that he wished he had made contact with me earlier. Chris and his wife Michelle were visiting her family and extended family this same weekend, but he called and I got to talk to him for about half an hour. Mom's cats, Voodoo and Shy didn't really warm up to me though, but I don't mind that so much. It takes longer for animals sometimes.
Mom told me that she talked to Dave about the way she was "huggin' on" me and he told her it was all right, because I needed it. The way I felt like a son and a brother was more that I could have asked for. At one point Mom told me, "There's no taking this back." The way she used my parents' words in a loving way was better than I could have imagined. She really did take me back.
Now I have to sort out my emotions. I've been afraid for thirty-six years that everyone would leave me; if not now, some time. Meeting my family was scary to me because I didn't know what to expect, and now after getting to know them face-to-face for a few days I still really don't know what to expect.
So, here's what I do know: This is real. It's not a dream. It's not a fantasy. I look like Mom, and Dave and Chris. I've got more relatives that I've seen in pictures that I don't know yet, but I probably will meet some day. I'll do more to develop relationships with Chris and Dave, and I hope that I could call Bruce "Dad" some day. As for Mom and me, we've got a permanent bond now. I'll never know another day wondering if I look like someone. I've got Mom's ears and chin. Dave and I have the same jaw. Chris and I have the same sense of humor that Dave and Mom have. I've seen my teeth in other people's pictures and I've heard I have my aunt Linda's toes. It took God's time to teach me that I'll never be alone again.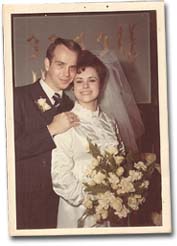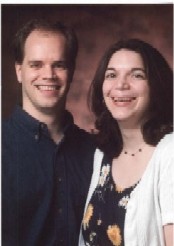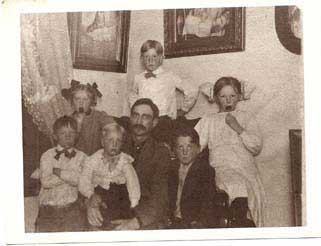 Now what do I do? I don't know how to feel anymore. I was so disoriented during that week, with my new found family, that I barely spoke. Usually I'm pretty loud and talk too much. Is that all bravado? How do I move forward? Will I really be a member of this family? What are their expectations? Thanksgiving, Christmas, birthdays all have new possibilities and new places to be – or will they? I've been a member of other people's families for so long I have to learn what it's like to be a member of MY family. I have to learn how to be a brother and have brothers. I have to learn how to have a mother and be a son. Can I have a stepfather now? Will I have cousins? When can I go back? When can they come to visit me? There are possibilities that I've not imagined yet and will all reveal themselves in time; in God's time.
Now I'm impatient, like a child.
I wrote most of the preceding while on the plane back to Grand Rapids from Gulfport. When I finished writing that I nearly slammed my laptop closed out of frustration. Actually I shut it down and tucked it into the seat pouch in front of me. I picked up a book. A few minutes later I was back on my computer, typing away. Here's what I wrote:
Throughout the last couple of months I've been reading a book by John Ortberg called, "If You Want To Walk On Water, You've Got To Get Out Of The Boat." The book has chapter titles as follows:
1. On Water Walking,
2. Boat Potatoes,
3. Discerning the call,
4. Walking on the Water,
5. Seeing the Wind,
6. Crying out in Fear,
7. That Sinking Feeling,
8. Focusing on Jesus,
9. Learning to Wait,
10. How Big is your God?
As my church small group talked about the chapters in this book as we read one each week, I found myself sad that I hadn't found some life-changing truth in more than a couple of the chapters. I even felt angry that sometimes, as in chapter three, I don't even know if I'm answering the right call in my ministry. I finished chapter 8 by the pool at the hotel, and then left to get on the plane back to Grand Rapids. I picked it up again on the plane, and turned the pages before I came to rest at the beginning of Chapter nine, "Learning to Wait."
The chapter begins with these two quotes. Matthew 14:32 "When they got into the boat, the wind ceased."
And from Lewis Smedes, "Waiting is the hardest part of Hope."
I guess I'll wait and see what happens next.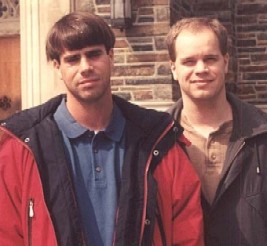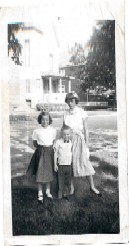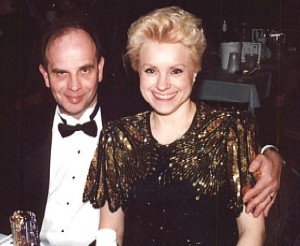 From this point on I'll update this page now and then with new developments.
9/6/2003
Today, I'm driving to Chicago. I'm picking Mom up at the airport, and then later meeting Aunt Linda, Uncle Bob and their children, my cousins, Meredith and Reid. I'm also going to have Giordanos pizza. And you'll just have to take my word for it, that I'm looking forward to meeting more family members more than my favorite pizza.
It was fantastic. The most striking thing to me about this weekend is that these people seem to genuinely love me, although they've never met me before. I'm a blood relative and that's enough for them. That's amazing to me. What is just as amazing is, I love them too. Now we have to get to know each other better, but I already like them as well as love them.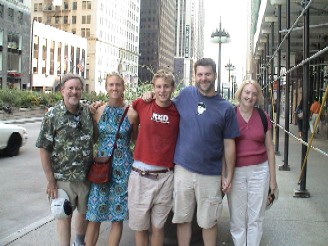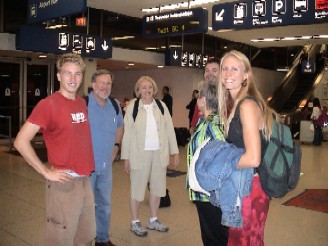 9/8/2003
Today I went to the Doctor I've been seeing about the pain in my legs that I've been managing for a year. I had an MRI on August 30 because the pain has turned into some numbness and tingling. The MRI revealed a "VERY LARGE" disk herniation at the L5/S1 juncture and I'm headed for back surgery. I was pretty upset by the whole thing. I pulled up my Family Doctor in my mobile phone's address book to call his office so they could do the referral to the neurosurgeon. A moment after I choose Dr. Kevin McCormick and pressed "Send," my mom answered the phone. Now, don't misunderstand me. My mom, though she is a Nurse Practitioner, does not work at Dr. McCormick's office. She lives about 1200 miles South, and that would be a difficult commute. Nevertheless, Mom answered the phone. It was really great to talk with her and I'm very happy that I got to tell her about my appointment and tell her I was scared. I felt better. When we finished talking, I hung up the phone and out of curiosity pressed "Send" again to redial. The answering service picked up and I left a message at my doctor's office. When I looked at the calls I made and the calls I received that day I saw the two calls to my Doctor's office and none to my mom. While I thought to myself, "I need to talk to my Doctor," God said, "You need to talk to your mom."
Thanksgiving 2003
I really have so much to be thankful for this year. I have a family.
I went to Mississippi for Thanksgiving (and Christmas the pre-quel) and this time Mom surprised me. Chris and Michele were there. Actually I told a few friends that I thought they might be there, but naaaaah. Then when our plane landed in Gulfport I said, "You know, I can't seem to shake the feeling that Chris and Michele will be there." I dismissed the notion with the feeling that I shouldn't get my hopes up. Sure enough, when I walked in the door, there they were. I like them both very much and I can see myself in both of my brothers now.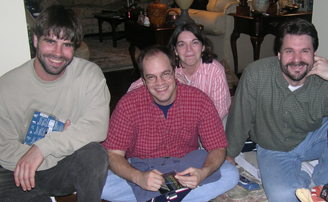 I also met a bunch of family friends from the old neighborhood. Teri has a great story, involving her daughter, and my mom, and me – before they ever met me.
September 22, 2005
It's really been a while since I've added anything to this page. I'm still in touch with Mom almost every day, but that has been more intermittent since Hurricane Katrina came through. Mom sent some pictures taken by a friend of hers and I've selected a couple for this page.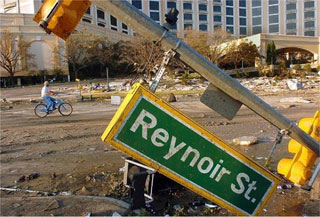 This is a view of the Beau Rivage hotel where I stayed the first time I went to gulfport.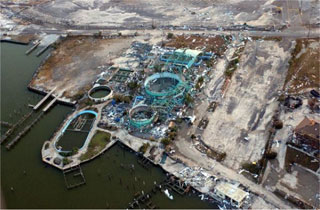 Last summer we visited this aquarium, it's right around the corner from the hurricane museum. Oh the irony.
These next two shots are kind of a before and after. One of my favorite places to visit in Gulfport or Biloxi is "Sharkheads". It's a tourist-junk store, but I have several fun t-shirts in my collection thanks to their ecclectic taste. The "before" picture shows Mom waving from the Shark head-shaped front porch. The "after" picture shows the same building from the opposite perspective. This morning, on the phone, Mom cracked up at the thought of that giant shark head floating out in the gulf somewhere.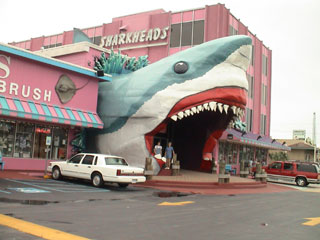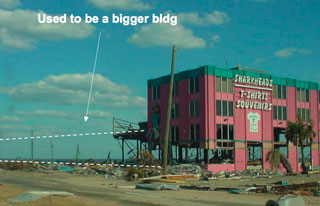 May 12, 2007
Wow – it's been a really long time since I updated this page. There's so much to tell, and it's difficult to know where to begin. Here goes:
I'm on a plane again, headed for Raleigh-Durham for two reasons. First, my brother Chris is receiving his Doctorate in Computer Science from UNC Chapel Hill this weekend and the whole family is meeting up there to celebrate with him and Michele. Now – Chris and Michele don't live there. After Michele got her PhD in Computer Science, they moved so she could begin her teaching career at Clemson. In 2006 she took a position at Old Dominion in Norfolk, VA. Chris has just taken a post-doc position in Knoxville, so for about nine months he'll be there doing his work and they'll visit as much as possible. Dave is back in School pursuing his Bachelors in Biology, but is planning to launch a masonry company after graduation this December along with another bricklayer buddy who is also in the Biology program at Mississippi State. Mom and Bruce are closing in on retirement and they tell me about thier 5th-wheel plans to finally spend time living together on the open road. That's after so many years of weekends and summers only while Bruce worked 80 miles North of their home where Mom could get a job. As for me, I've had some changes in my life. I'm divorced (again) – that's not a story for the web, but if you're curious, go ahead and give me a holler.
Now the good news. My mom is in the process of adopting me.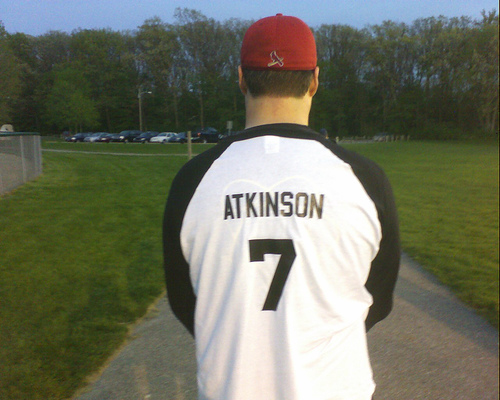 Once that actually happens my name will change to Brian Atkinson, my Mom's maiden name. So, I'm looking forward to that.
June 22, 2007
I'm in Gulfport again, this time for a couple of reasons.
1) My mom is having some surgery on her neck to remove some bone spurs and a ruptured disk. The surgeon put in some extra bone and a couple of plates to stabilize the neck-bones and help them heal better. I took this picture after her surgery. She was just falling asleep.
our hands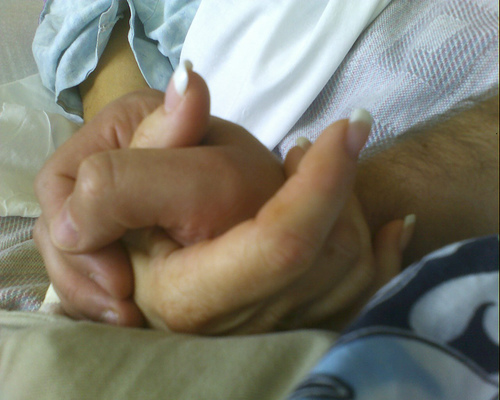 2) Adoption process. Mom and I met with her attorney to go over the papers and get a box of stuff from my adoptive parents. That box included some pictures like these:
lots of little me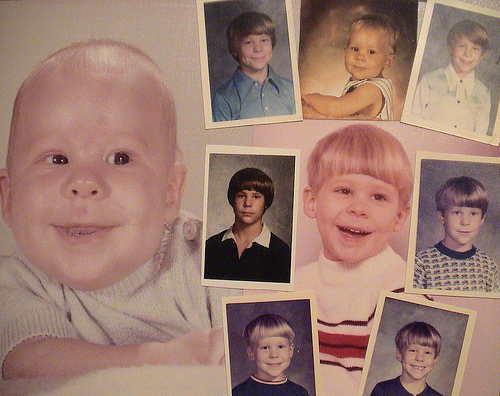 The hope is that the attorney will get the judge to sign off on the adoption after reviewing the documents and the process we took. If that goes through, I'll be an Atkinson before you know it. Otherwise, I'll have to come down again to appear before the judge and give testimony. That's just fine with me.
Some people might ask why I'm going through this. Some might wonder why an almost 40 year old guy would want to be adopted, and why my birth mother would want to go through the process and expense. The simple answer is something my mom said to me today. It's about us. It's about reuniting us, and what it means to us. It's not about anyone else. Mom's idea is that we've got the opportunity to be whole again.
For me, I've recently been thinking about it a little differently. I need to learn what love feels like. I need to learn what it is. Fortunately for me I have a whole family waiting to help me understand it. I have friends willing to help me model it. It's an exciting prospect.
Wednesday, June 27, 2007
Mom just got the call from the attorney that as of Thursday, June 21, 2007 – she is legally my Mom.
This is my new scripture for the day – maybe the rest of the year.
Revelation 21:3-5 (The Message)
I heard a voice thunder from the Throne:
"Look! Look! God has moved into the neighborhood, making his home with men and women! They're his people, he's their God. He'll wipe every tear from their eyes. Death is gone for good–tears gone, crying gone, pain gone–all the first order of things gone." The Enthroned continued, "Look! I'm making everything new. Write it all down–each word dependable and accurate."
I don't think I've ever been this happy.
So what does this mean? Well – the adoption also legally changed my name to Atkinson, Mom's maiden-name. I'm answering to that now. Next week is my 40th birthday (July 7) and it's also kind of my first one.
September 7, 2007
At this point I'm waiting for the State of Illinois to update my original birth certificate. Once I get an updated birth certificate, I can change my Social Security/IRS info, Driving License, bank stuff, other legal stuff and then learn how to sign my new name. That waiting has been the most challenging so far.
September 11, 2007
My company – Gospel Communications – helped me to put together a little video explaining the fun of changing my name.
It was a pile of fun to shoot and produce.
Big thanks to my friend Paul who manned the camera and the video editor, and thanks to Gospel Communications for making this goofy process so easy for me.
October, 2007
Still no word from the state of Illinois, but I've got all the documentation I needed without the birth certificate. I've made the name change at the Social Security Administration, Secretary of State, and my bank. In November I'm doing some consulting and drawing my first paycheck as Brian Atkinson.
November, 2007
It's very strange to go through the airport with two drivers licenses – the old and the new. My plane tickets are in my old name, but that drivers license has a corner cut off. The new one explains it. You guessed it, I got flagged with 4 S's by security – so I got lots of awkward pat-downs.
December, 2007
I've moved all my bills over to my new name – except for Comcast. They are pretty comcastic
Christmas, 2007
Home to Gulfport – this time I drove. 20 hours in the car, I don't know how well I could do that again. Mom presented me with my updated birth certificate. That was the nicest present I could have gotten.
June, 2011
OK FINE… I'll update the page. My parents are visiting me in Pennsylvania right now! There! Happy? It's so great to spend time with them. We're going to visit Longwood Gardens, go to a Camden Riversharks game, and eat many things that are not good for us.
I will let this story stand as it does now, with no further updates. The story is still going, but now has taken a different shape – from a series of events, to simply living life. Regardless of the day or context, one thing remains unquestioningly true:
God is able to do far more than we could ever ask for or imagine. He does everything by his power that is working in us. Give him glory in the church and in Christ Jesus. Give him glory through all time and for ever and ever. Amen. Ephesians 3:20, 21 (NIRV)